High pressure iSUP pump with intelligent dual-stage
Automatic two-stage pump: The first stage has a maximum speed of 350L/min and the second stage a maximum pressure of 70L/min. So you can set the pressure to your target level to prevent over inflation.    
Powerful 12v inflatable sup electric air pump and Compatibility

The 12v electric sup board air pumps are so powerful that they can not only inflate items but also deflate products. Supported working range 0.5 - 20 PSI. For SUP and inflatable boats. East to use. High-pressure electric paddle board pump(12v), quickly and easily inflate and deflate your iSUP (inflatable stand up paddleboard) and water sports pool inflatables in no time without effort.
This inflatable SUP pump is suitable for water sports, and camping trip and is ideal for inflatable paddleboard, boat, raft, pool inflatable, outdoor camping, inflatable cushion, air mattress bed, swimming ring, yoga ball, inflatable tent.... 
Electric paddle board pump air compressor portable and convenient 
The inflatable sup pump is small and lightweight, making it convenient to use it indoor and outdoor. You can easily take this electric paddleboard pump 20psi anywhere you go!
This electric paddle board pump can be stored in a truck or carried around you and offers to inflatable products anytime, anywhere.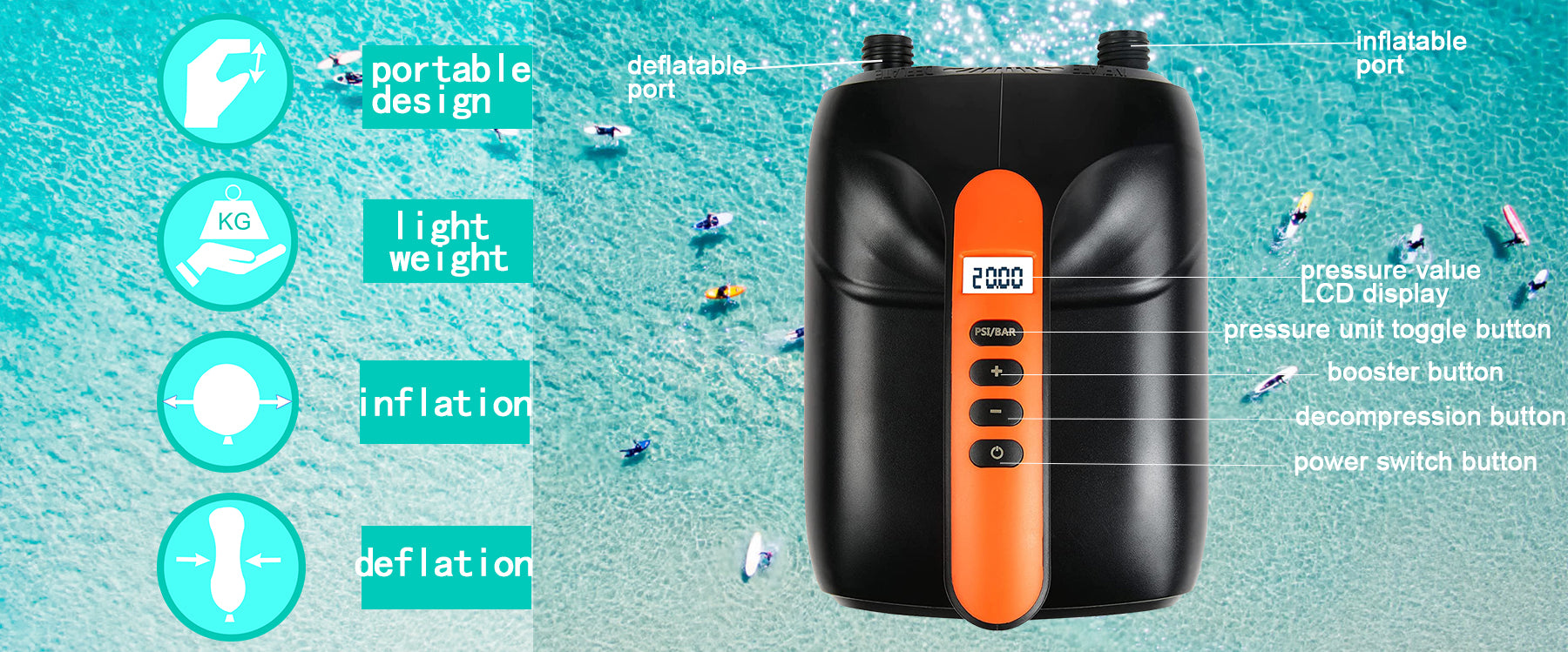 Electric pump for sup board with digital display
Electric sup automatic pump digital display with real-time pressure monitoring with the integrated digital display.  
You can set the desired target pressure and monitor the pressure in real-time. 
Electric pump for inflatable paddle board with 12V DC car cigarette lighter plug and dual function 
This paddleboard air pump can be connected to the car's 12V DC plug. Pump for stand-up paddleboard can help you everywhere.    
This inflatable sup electric pump is a powerful inflator and deflator for both indoor and outdoor use, especially for travel and outdoor activities. 
Stand up paddle board and water sport electric pump with 6 inflatable nozzles
6 inflatable nozzles, it can be used on 90% of the products on the market.
For example: inflatable yoga ball, inflatable car bed, floating row, inflatable sofa, inflatable tent etc...
20PSI SUP high-pressure 12V DC electric pump efficient and auto-off function 
About 10 minutes to inflate a 12 feet SUP or a 9 feet inflatable boat. One efficient electric air pump for inflatable paddle board for you and your friends!
Once the electric pump for paddle board reaches the target pressure, it will stop automatically.
Follow the steps to use the high speed air pump for inflatable paddle board
Use a flexible conduit adapter to attach the end to a nylon air hose (suitable for high temperatures). Use the pump outlet and tighten it clockwise. Install the supported valve adapter at the other end of the hose and tighten it clockwise. Then connect this air hose to the chamber and get ready.
Car Cigarette Lighter Plug
It is used to connect the car cigarette lighter plug. The plug has a currect fuse, which is convenient, safe, fast, and safe to use.
Specification:   
Supported pressure range: 0.5 to 20 PSI, 0.034 to 1.788 bar
Digital sensor accuracy: 0.01 PSI
Auto-off function
Dual inflator switching point: 0.65 PSI
Built-in sand filter
Maximum power consumption: 10A, 120W, 12V
Length of DC cable: 9.9 ft. 3 m
Air hose: 3.3 m in length and with HR valve adapter
Net weight of the product: 2 kg
6 inflatable nozzles
Package:
1 x 20PSI Smart Electric SUP Pump
1 x 3.3ft high pressure hose
1 × 9.9ft DC car power cord
6 x inflatable nozzles
1 x English manual instruction
Awesome product! Recommend for anyone purchasing an ISUP
So glad we purchased this! We pump up 2 10.5 paddle boards to 15psi in under 20 minutes.
With the hand pump it would take that long to do 1 and we would be dripping in sweat and exhausted.
Portable electric charger perfect for iSUPs!
This is fantastic! We bought this for our iSUPs and you simply increase to the correct PSI you want, push power, and a couple minutes later it's done!! No more manual pumping for us!!
N/A
ALL WORK GREAT AND ITS FAST
Great item.
Makes like a lot easier when inflating paddleboards
Nice
I cant believe I waited to buy one. Manually pumping the 2 SUPs we had kept me from taking our boards to other places. I finally broke down and tried this pump, took our boards to another lake and blew both up in around 25 mins to 15 PSI in each. Just plugged it in and let it go, the preset to the PSI you want allows you to drink beer and forget you are blowing up SUPs. Highly recommend!