Upgraded 16PSI high-pressure stand up paddle board electric air pump with built-in 6000mAh battery 
The stand-up paddleboard electric pump for inflatables has a built-in 12V LI-ION, can be used for at least one hour after fully charged, can also be powered via an integrated car cigarette plug power cable so you can use this inflatable sup board air pump anywhere and everywhere.  
High-power board pump for inflatable sup quickly and easily inflate and deflate your SUP (stand up paddleboard) and water sports pool inflatables in no time.  No need to deal with the hassles of inflation.  

While it's true that a paddle board electric pump is an absolutely necessary accessory for your indoor or outdoor use.   
Inflatable stand up paddle board battery powered electric air pump high pressure 12V 16PSI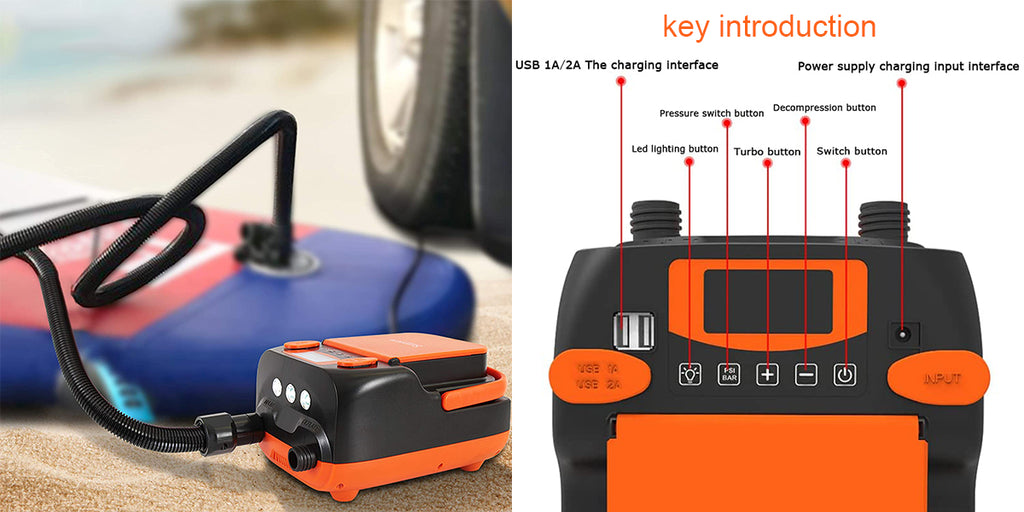 It features adjustable PSI air pressure settings with selectable pressure units to PSI / Bar so you can set the pressure to your target level to prevent over inflation. 
12v paddle board pump allows you to push a button, walk away, and return.  A few minutes later a paddleboard is fully inflated.  
Intelligent double stage efficient rechargeable sup DC pump for inflatable paddleboard
1st stage max speed 350L/min; 2nd stage max speed 70L/min.

It only takes less than 1-2 minutes to inflate, which is faster and more convenient than manual hand pumps.  

Our sup high-pressure 12v sup board pump is easy to pack and carry, and one person can operate it independently.  

Furthermore, auto-shut-off technology makes them extremely safe to use and you'll conserve a lot of  energy for your time on the water. 
LCD digital display and LED flashlight
Vachan paddle board inflatable high speed SUP pump features smart inflator design with air pressure preset and is equipped with a digital LCD screen and touch button control panel for easy operation. It also has a LED flashlight.  
Paddleboard electric 16psi air pump with detachable air hose 
This heavy-duty extension air hose with high-pressure valve fitting for reliable high-pressure use & a 12V DC car cigarette lighter vehicle connection.
Portable and space saving paddle board electric sup air pump 
The iSUP pump electric portable air compressor for inflatables has a space saving compact design with hussing access lid to store power cable and a convenient carry handle for easy travel. 
Widely applicable
This sup and water sport electric auto pump is suitable for most inflatable products, such as inflatable SUP stand-up paddleboard, inflatable boats, rubber boats, air beds, air cushions, inflatable tents, etc. With 6 nozzles. 
Specification:
Material: ABS + PA
Voltage: 12V
Power: 110W
Noise: ≤80dB
Pressure Preset: 0-16PSI
Air Flow: 70 L/min
Size: 9.88×6.89×5.24 inch
Wire Length: 300cm/9.8ft
Soft Tube Length: 3.28 ft(1m)
Weight: Approx 3.18kg
Package: 
1 x electric air pump
5 x nozzles
1 x hose
1 x product manual
1×9.8 feet DC car power cord
1×AC power cord
1×carry bag
1×3.3 feet High-Pressure Hose with 1 valve adapter for SUP
Good value for price
I bought this last December, so I waited till I used it a few times to post a review. Yes, this is a low-quality product, probably made in China. However, it works well. I've used it about 8 or 9 times, fills and deflates well. About 10-12 minutes to get to 15 PSI in 10' paddleboard. One thing I don't like, might be a product malfunction, will not inflate if the battery is dead, though plugged in…. Need to wait till battery charged. There's probably a better option out there, but I've had success with this one.
The hose is absolute crap
Save your money. The hose is hard plastic and just crap
After two months, it does not work unless you plug it in to your car
The first two months, I could charge it at home and take it to the beach and pump my paddle without having to plug it in. Now I have to plug it and sometimes it takes longer to even turn on. Not worthy the money.
good for the money, a little glitchy
Works great, the controls are a little glitchy. May update this review in a few months, but so far so good. the cordless feature is a huge plus! I can get 5 big fills on a battery. the usb charger is a great little feature for the beach too!
Washers all spread too wide to fit receptacles
Love it except washers are not manufactured correctly... inside diameter is too small causing them to spread too wide when installed on fittings, so it can't fit properly in the inflatable boat receptacle and is very unnecessarily hard to try to force in. Proof is when I took the washer off the boat included hand pump and installed it on this pump fitting, it fits easily and flawlessly.