Those items has stock in UK,  US, Germany.  It will take about 3-5 days to be delivered. If you want to get a discount, please enter the discount code: 

PUMPSALE to get a discount. 

[LCD digital display] This SUP electric air pump comes with an intelligent inflatable design. It comes with a digital LCD screen, a touch button control panel for easy operation. Use the digital display to pre-set your desired pressure value and monitor the pressure in real time. It also has an auto-off function. When it reaches the pre-set value, the air compressor will turn off automatically.
[20 PSI Rechargeable Electric High Pressure Air Pump] This electric paddle board pump comes with a built-in 6000mAh type rechargeable battery. It can be powered by a cigarette lighter, wall plug adapter, computer, mobile power bank...In this way, you can use it wherever you want.
[0-20 PSI Setting] This pressure unit can be selected among PSI/BAR. This air pressure setting is adjustable. It is ranged from 0-20 PSI. You can set the target pressure at a certain level in case of over inflation.
[Wide Application& 2 Inflatable Mode] This 20PSI 12V inflatable pressure pump is multi-use. It can be used for paddle boards, inflatable boats, yoga balls, inflatable tents, air mattresses, water floats, and other inflatable devices. It has two inflatable modes: inflation and deflation.
[3.3 feet Air Hose and 9.9 feet DC Cable] This inflatable SUP electric pump air compressor is equipped with an operable 3.3ft long flexible air hose so you can easily inflate/deflate your stand up paddleboard in no time.
[Space Saving] This paddle board pump portable electric air compressor is space-saving and also has a convenient carry handle for easy travel around. You can take it anywhere you want.
[Dual Stage & Auto-Off Function] 1st stage for maximum speed at 350L/min, and 2nd stage for minimum speed at 70L/min. When it reaches the target pressure, the pump will turn it off automatically. The deflation function is also quick and easy.
[Powered by Battery or 12V DC Connector] Built-in 6000mAh battery, east and fast to inflate up to 3 paddle boards in a row, or connect to your car's12V connector to work. 12 A fuse to increase safety. It comes with 6 nozzles to fit most high pressure inflatables on the market.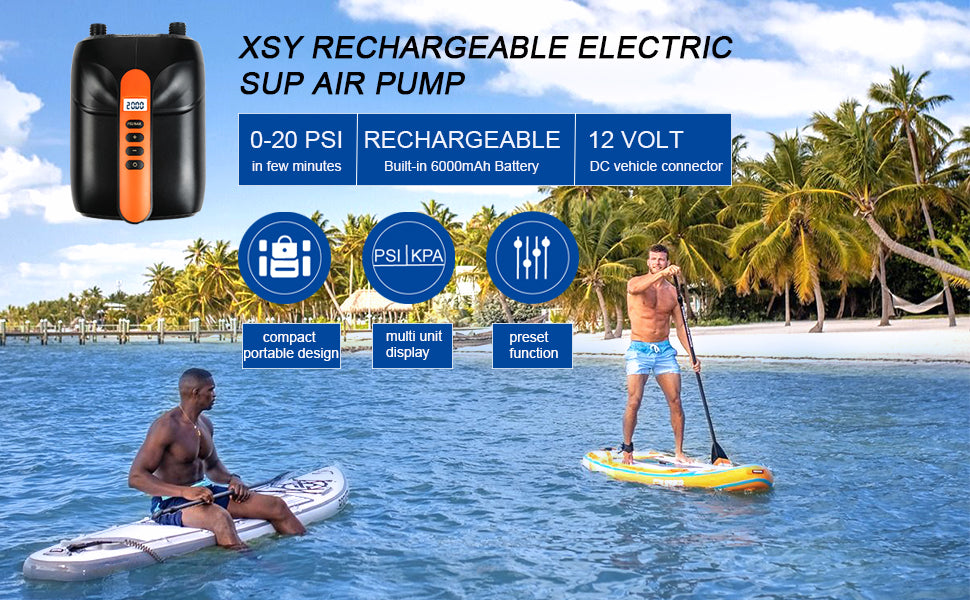 XSY Compact Digital Air Pump Compressor
Intelligent DC electric pump with adjustable PSI air pressure. Auto shut off when desired pressure is reached preventing damage to your inflatable, iSUP, or pool floats.
A unit select button lets you choose from psi, KPA. XSY iSUP pump brings you the highest quality and premium experience.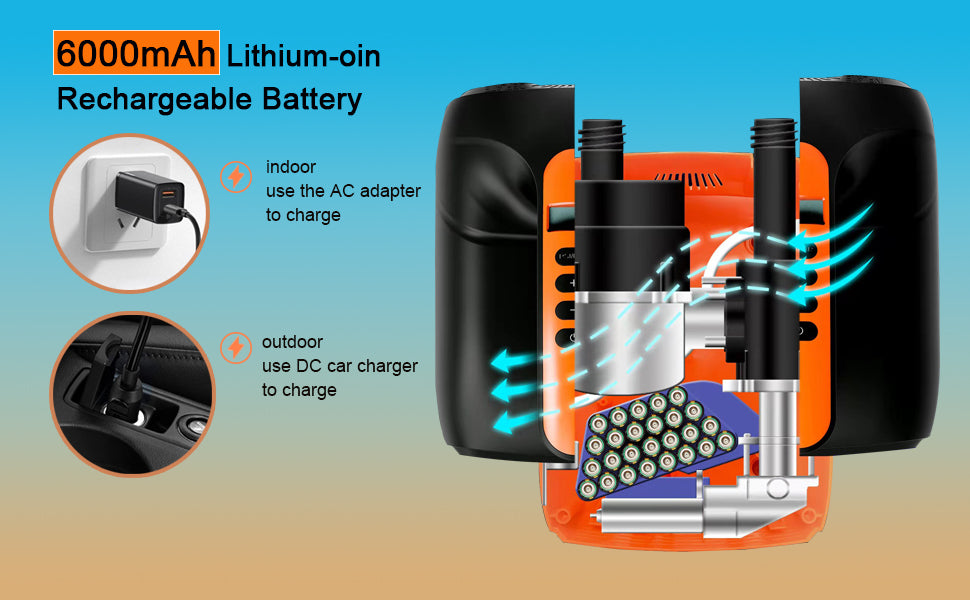 Rechargeable SUP Air Pump Inflator Deflator
6000mAh Rechargeable Battery: Taking frequent outdoor use into consideration, we hereby provide you with a built-in rechargeable battery inside this electric air pump compressor. So you can inflate your iSUPs or other inflatables anywhere you want.
LED Digital Display: It is so intelligent that it goes with a digital LCD screen, a touch-button control panel

Touch button control panel: Inflate your iSUP stand up paddle board or other inflatables from 0-20 PSI in a few minutes with the touch panel control & digital LCD display. It is simple and convenient.

3.3 Feet Air Hose: Comes with a 3.3-feet air hose with great mobility and flexibility, you can inflate and deflate the inflatable stand-up paddle board in a convenient way.


3 Charging Ways: Connecting the wall plug/Connecting the car power cord/Connecting to the mobile power bank or computer


Inflate and deflate: Inflate and deflate a wide variety of SUP paddle boards, water sports toys, and pool inflatables. 

Dual-stage function
Dual-stage: 1st stage for maximum speed at 350L/min and 2nd stage for maximum pressure at 70L/min.

6 Universal Nozzles
This air pump comes with 6 universal nozzles, it can be used on most of the inflatable products on the market, such as: Stand Up Boards, Inflatable swimming pools or rings, Air mattress/bed, Yoga ball, Floating row inflatable, Inflatable sofa, Inflatable tent and so on.

Inflate iSUP
Inflate your iSUP stand up paddle board or beach toys from 0-20 PSI in just few minutes.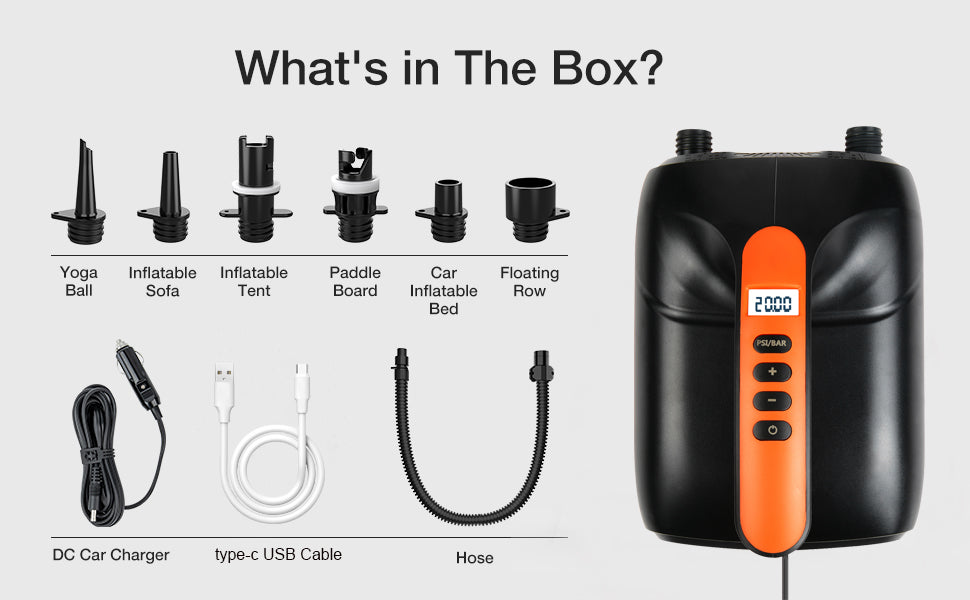 Amazing!
This pump is amazing.
I'm using it for my paddle board to inflate and deflate it.
With the build in battery I can use anywhere.
Definitely recommend it !
Amazing Communication and Great Product!
I received the pump in time for my vacation. It worked beautifully. The delivery was a few days late, but I was updated every day!
This gets the job done
This pump is really great. I used this for inflating bicycle tires, footballs, and an inflatable pool. Normally, I don't really care about aesthetics when it comes to power tools, but this actually looks very sleek. I will be taking this on every road trip as it seems to come in handy at the worst possible moments. While I'm not thrilled about the price, sometimes you have to pay for better quality. This is it.
GAME CHANGER
Not only was the product delivered a day early, everything was in the box, nothing was damaged. I do wish that it would have come with a bag to keep everything together. But on the plus side, we didn't have sore arms or sweat rolling down our faces. OMG WHAT A LIFESAVER!
We can actually enjoy going paddling instead of dreading pumping up two boards.
We actually aired up both boards one right after the other! Each board took about 10 minutes to air up to 12PSI. We had actually just wanted to test the battery on it. It was charged at 100% and after blowing up both boards it ended up at 66% left on the battery. We set the 1st board at 12PSI and let it do its thing, it shut off right at 12PSI. Started on the next board exact same results. You can set it and walk away so you can get the rest of the truck loaded up or whatever else needs to be done.
I would give this product a 10-star rating and highly recommend purchasing it.
So far so good...Exactly as described
This pump is exactly what is described. Compact enough to take with you. Pumped up a SUP with no problems. My only suggestion would be to include a travel bag because it will not fit back into the box once you get it out.