Multi-functional air compressor for car tire with digital pressure gauge
The tire inflator is equipped with 2 in 1 hose and 3 adapters (Presta valve, ball needle, swimming ring nozzle). This electric air pump for car tire is specially designed with a scene switching function. 5 inflatable scene modes (car/bike/motorcycle/ball/custom) can be chosen by pressing the scene switch key in a short time. Preset the pressure value as you need and select the mode to finish the inflation fast. The maximum high pressure capacity is up to 120PSI. Taking the applicability and safety into consideration, the adjustable pressure range in different scene mode is different. You can refer to the following picture.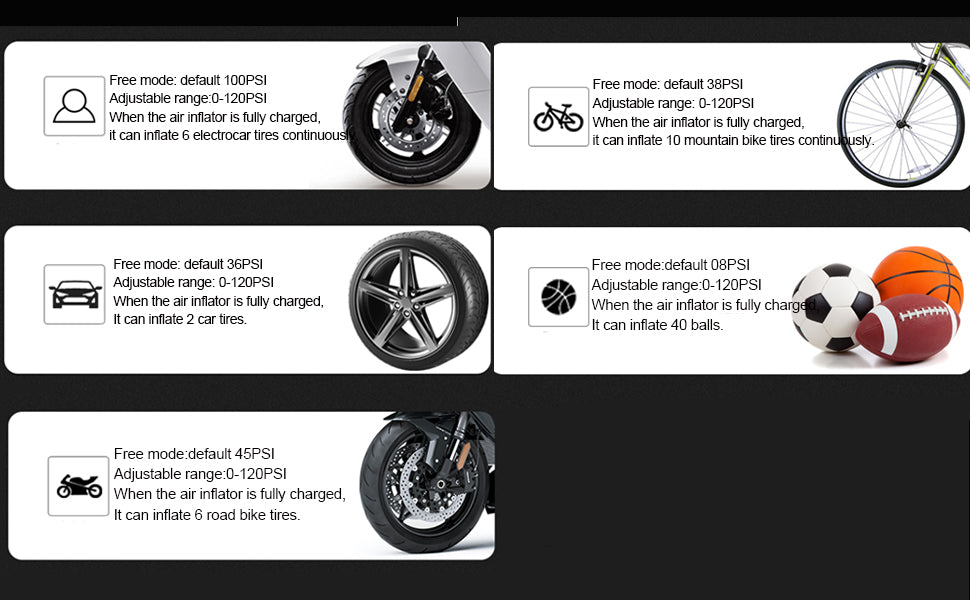 Portable car tire pump with dual digital display and intelligent control  
The above pressure is clearly displaying the current pressure when the tire pump is connected. The below pressure is clearly displaying the preset pressure. You can monitor the pressure in real-time. This smart electric air pump for car tire has 4 optional units including PSI, BAR, KPA, Kg/cm2. This 120PSI tire inflator comes with the pressure preset function. The automatic tire inflator will pump to the exact pressure and stop inflating automatically once the tire pressure reaches the preset value. This cordless tire inflator provides a quick, accurate, and safe inflating experience.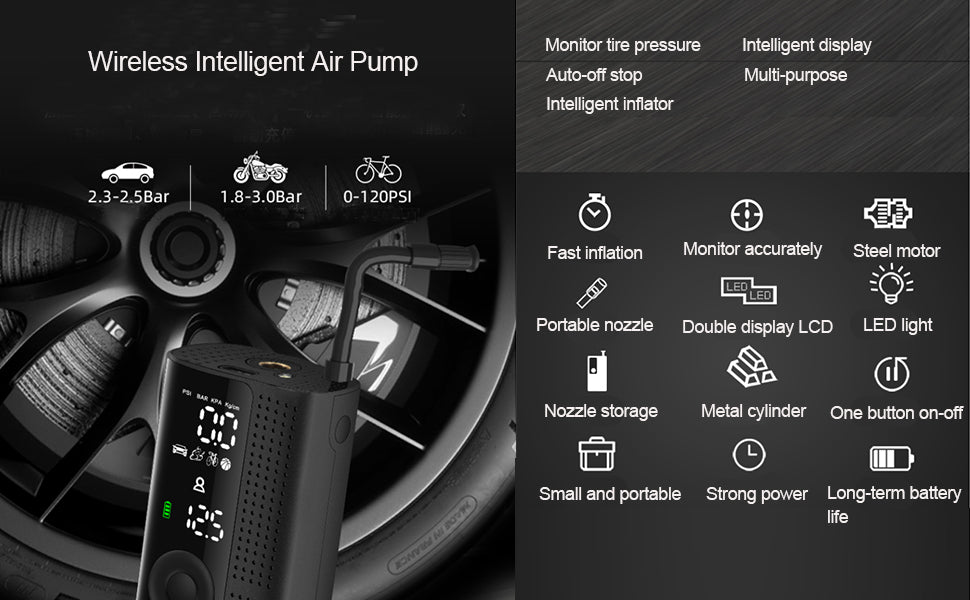 Portable air compressor for car tires with LED light 
This portable electric air pump for car will be helpful for you if you are in emergency!  This mini rechargeable electric air pump also features with LED light design to bring you a bright field of view in the darkness. With this car tire pump, you do not need worry about lighting in a dark environment when traveling.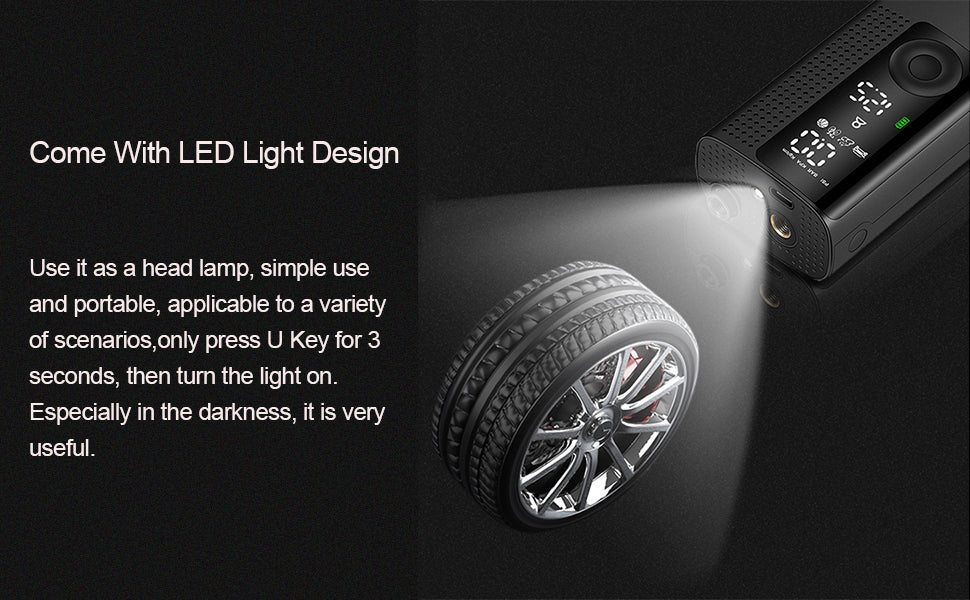 Portable and convenient 120PSI tire inflator air pump 
This portable cordless air pump for car tire comes with a compact design which measures only 155*62*40mm and weighs 400g, much smaller and lighter than traditional electric tire pump. It is powered by a rechargeable lithium battery. You could put it in your pocket, backpack, or car to help you anytime and anywhere when traveling outside.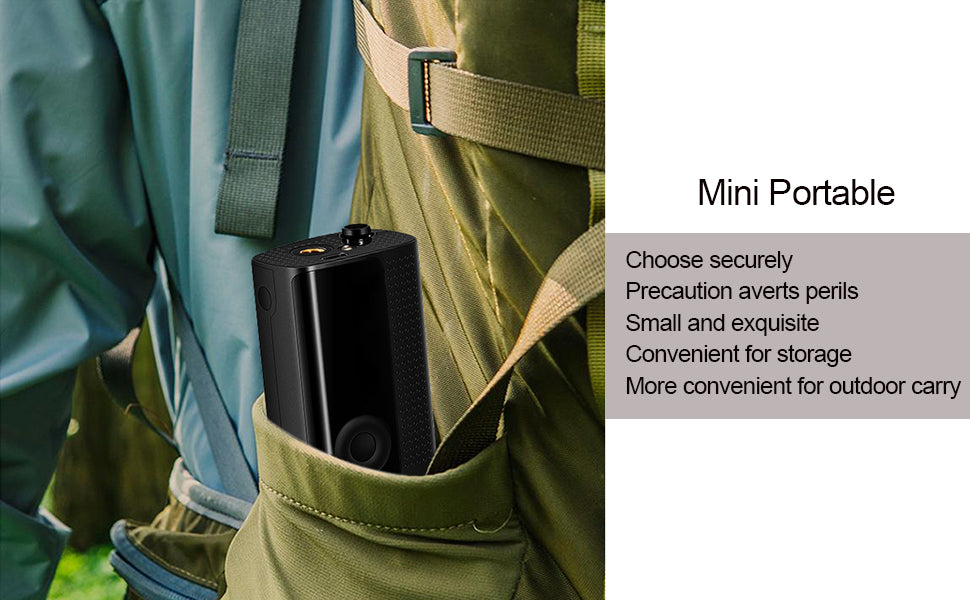 Safe and Portable Air Compressor Pump with 2000mAh Battery
This portable 120PSI tire inflator is a powerful solution for your daily inflating needs. This cordless car tire pump comes with the design of heat emission holes to prevent overheat. It is included with all accessories, type-C cable, and user manual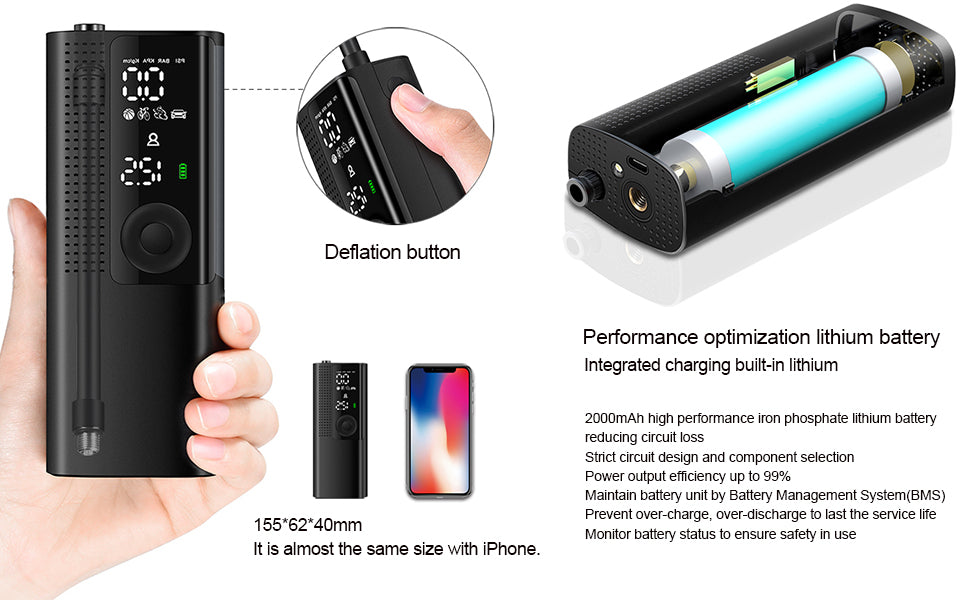 Tire pump with 2000mAh battery Type-C universal connector
This portable tire inflator pump has a practical USB connector. You can use a USB adapter or Type-C converter to charge it. There is a built-in 2000mAh lithium battery protection system to protect battery overcharge, battery over-discharge, short circuit.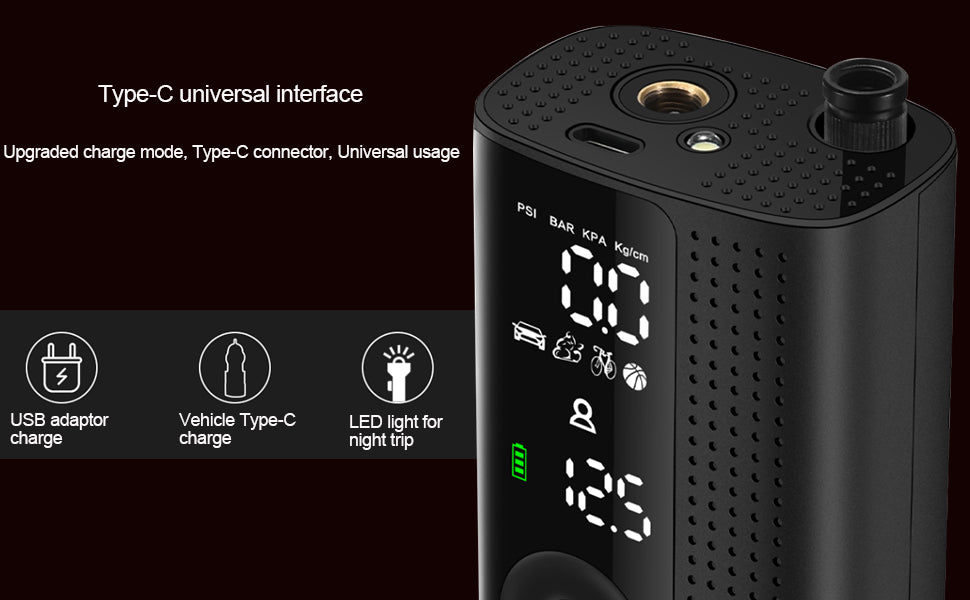 Tire pump for car with high temperature resistance rubber inflation tube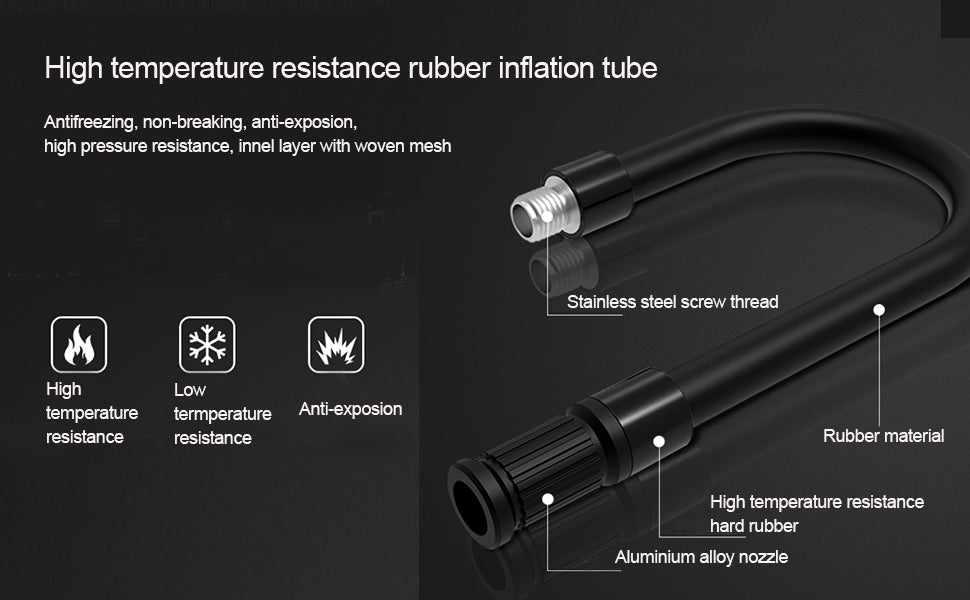 Specification:
Inflation pressure: 0-120 PSI
Working voltage: 11.1V
Battery capacity: 2000mAh
Charge connector: type-c
Charging parameter: 5V/2A
Working temperature:0-45 degree
Working noise: 1m<85db
Product size: 155*62*40mm
Product net weight: 400g
Package list:
Package color box
Air inflator
Dustproof bag
Instruction book
Type-C connector
Road bike adapter
Ball needle
Swimming pool adapter
Air tube