Inflatable Electric Pump for Air Bed Is Faster than other air pumps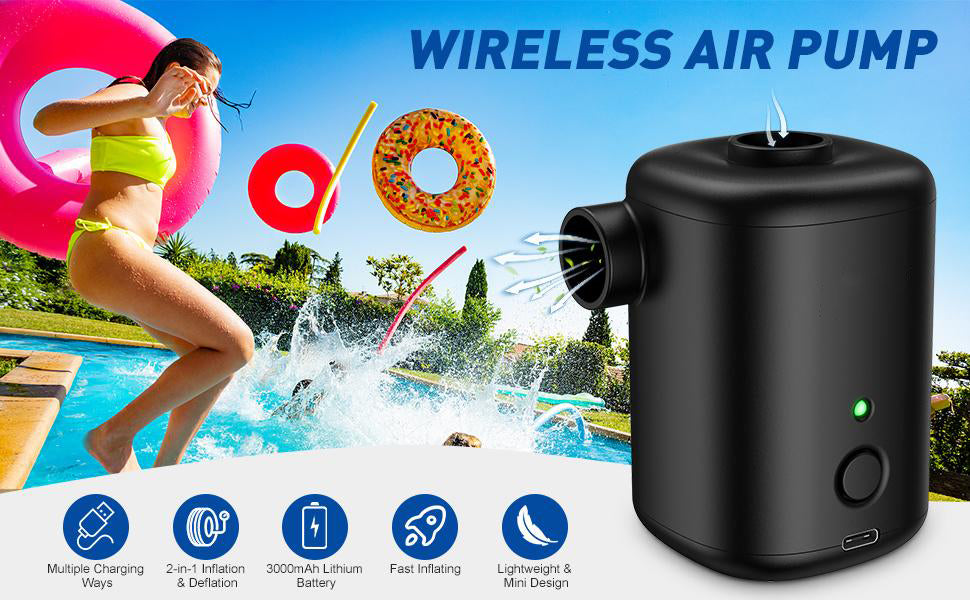 This professional electric air pump for inflatables has full power, stable and rapid airflow speed at 300L/min. This electric air compressor pump with USB cable can reach up to constant pressure 2200 Pa. This inflatable electric air pump can be easily charged by 5V USB port, home computer, car or portable power supply.  
5V Electric Air Compressor Pump with 4 Nozzle Sizes
The air pump comes with 4 different air nozzles that can be used for air cushions, swimming pools, sofas, water beds, boats, pool toys, swimming rings, etc. Electric air mattress pumps are widely used on beaches, camping, and outdoor activities. And a top suction hole for deflation function with pumping pressure 1800 Pa. This electric air pump has 3000 mAh lithium battery, which can work continuously for 45 minutes. It can be fully charged in 1.5 hours.  
Portable & Small & Wireless Electric Air Mattress Pump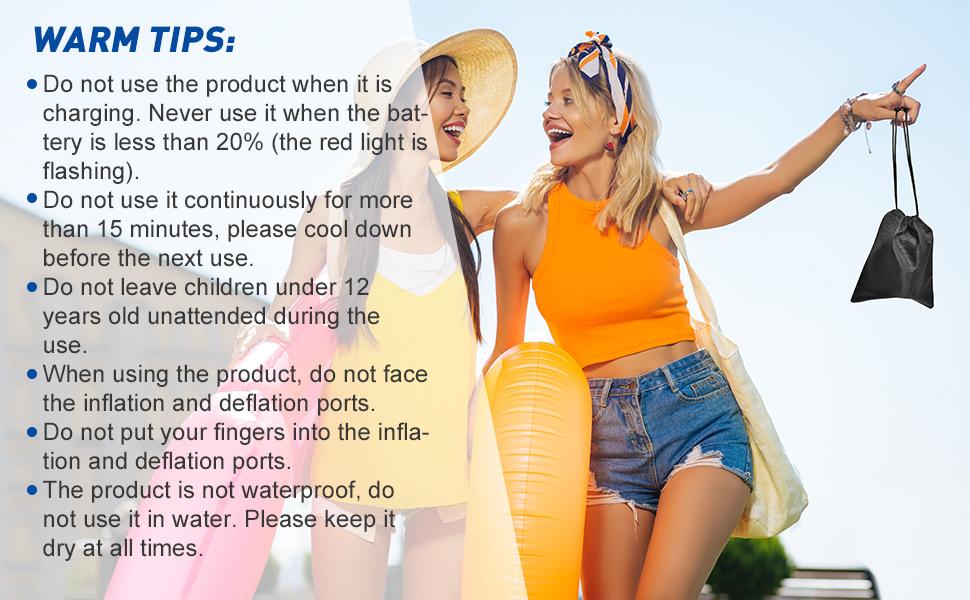 The size of Portable Electric Air Pump (2.17 * 2.44 * 3.23in, 0.32lb) is only half the size of a cell phone. The rechargeable electric pump can save storage space. There is a storage bag in the suit, you can use it to install the air nozzles and USB cable, the mini air pump will only take up a small space, you can take it with you easily. An essential tool for quick and easy inflation/deflation, more effective than most manual pumps on the market. 
Air Mattress Pump Electric with Quick Charge
This mini electric air pump can be fully charged in just 1.5 hours! The USB charging method is more convenient. You can charge it at home, office, car, or anywhere that USB can be used. The shell is made of high-quality ABS, which has a better fall-proof effect. Note: this electric air compressor pump is not waterproof, do not use it in water and keep it dry always.

Battery protection and anti-slip treatment           
The portable electric air pump has an overheat protection function, which can work continuously for a long time without getting burned. The air pump shell adopts an ergonomic design and uses wear-resistant and non-slip materials, easy to grasp and easy to use. 
Electric Air Bed Pump with Power Display Led Light
Power display LED light. When the electric quantity is lower than 20%, the red light flashes to indicate the low electric quantity (It is recommended to charge electric pump for air mattress). 
Applicable to Any Place
The wireless air pump can work for 45 minutes continuously after charging with a USB cable. No matter where you go, you can use it freely. It allows you to spend more time with your family happily. Get rid of the traditional domestic air pump that needs to plug into the power cord. 
Wide Application of Inflatable products

The wireless inflatable pump is not only suitable for inflatable mattress, swimming pool float, raft, inflatable sofa, air cushion, bathtub, boat, swimming pool toys, swimming rings, etc...but also for household vacuum compression bags and other products that need to deflate it. It is one of the best choices to use at home.  
4 in 1 Function of electric pump has 4 different sizes' nozzles can be used for most of the inflatable products at home. It only takes 1.5 hours to be fully charged, with 3000 mAh battery inside. It will allow you to enjoy yourself in the summer and enjoy the nature time when camping. You can charge the pump with multiple methods with one USB. Let you rest assured to go out to play and enjoy. 
7*24h service
If you have any problems with the air pump during use, please contact us in time, we will provide you with satisfactory service.
The package includes:
1*wireless electric air pump
1*instruction manual
1*black bag
1*USB charging cable
4 gas nozzles
Powerful & compact
Great air pump with different attachments for different needs.
Great little product!
Used this for camping and works great due to its small size and form factor. Also used to hell vacuum some bags to squish em down and it was perfect too! Great value!
pretty good for the price.
so far it is what I expected. now i can tidy up my room.
Little genius does it work as expected!!
Honestly its really handy product! I was struggling to fill up my mattress and other stuff with a hand pump! With this little genius all of sudden its highly faster and easy! The battery lasts longer and the product is durable! Satisfied with this pump after searching a lot in the market!
Simple and perfect
Was worried but after one camping trip this little widget will be on my Best Buy's if 2021! Super awesome product love the portability of it!