Portable electric air pump with high capacity rechargeable battery

It is equipped with a high capacity 4000 mAh lithium-ion battery that supports higher performance and longer battery life for instant inflation. A built-in USB port allows for easy charging at home or in the car. It will be ready to go whenever and wherever. With indicator light, you can clearly see the charging state and electricity consumption.
Small electric air pump with multiple charging modes
One of these excellent performance rechargeable air pumps is that it can be charged in many different ways because the built-in USB port can make you easily charge it at home, in the car, or on the power bank. Especially With the USB car charger adapter, you can charge the inflatable air pump electric in the car. It's convenient to charge in many different ways.
Air Mattress Pump Is Easy to Use
This inflatable air mattress pump is compatible with 5V DC power supply. To inflate, just put the inflatable head at the filling hold, then press the switch. To deflate, you should put the inflatable head in the exhaust vent hole, then press the switch to deflate. Our electric air mattress pumps are so easy to operate.
Electric air pump for air mattress with three in one nozzle design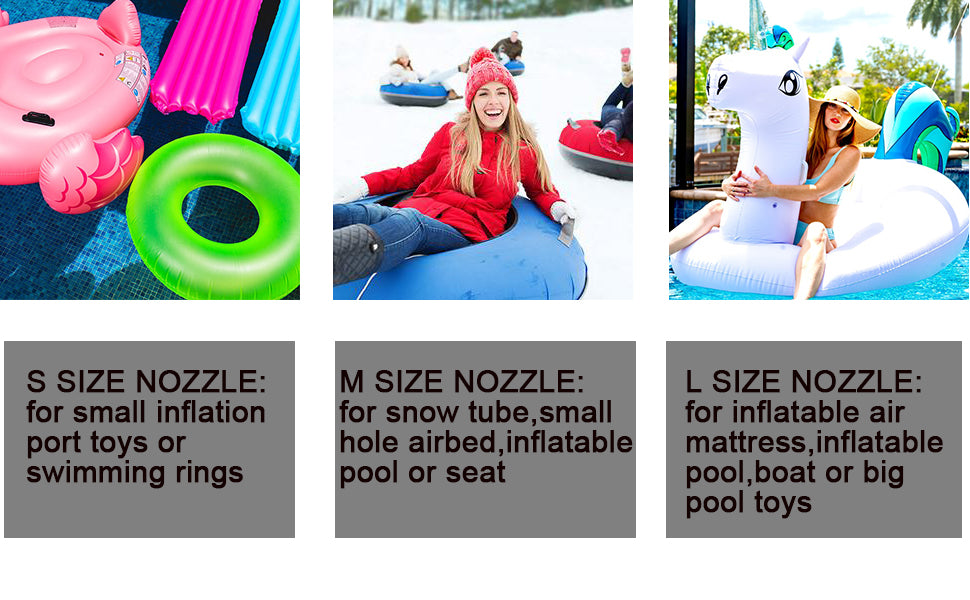 There are three different kinds of nozzles to ensure the air pump suit all sorts of inflatable products. For example, the small nozzle is ideal for inflatable toys, the middle size is suitable for inflatable airbeds or seats and the large one can be used for air mattresses or inflatable pools. It does not matter if it is big or small due to the different size valve adapters.
Small, lightweight, and ultra-compact electric pump for air bed
The air mattress pump is designed to be small and lightweight, which makes it small enough to fit in a backpack, suitcase, or tool kit. This inflatable tool, without a doubt, makes it easy for you to carry around for both indoor and outdoor use. You are always ready to inflate your beach ball, bounce house, airbed, inflatable pools, and more. With a travel-friendly dimension, you can easily take this air pump anywhere you go!
Inflate and deflate in a flash

The small-but-powerful motor maximized airflow for speedy, effortless inflation. The vachan sports electric air mattress pump will deflate your items just as quickly as possible. This electric air pump for inflatables can also deflate products by sucking air out.
Electric pump for air mattress for wide application

With a rechargeable battery and wireless operation, this quick fill electric air pump allows you to pack in a quick way and use it for various inflatable products, such as swim tubes, inflatable sofas, airbeds, inflatable boats, air mattresses, pool toys, vacuum bags, bounce houses, air cushions, airboat, swimming rings, air cushions and more. It is for both indoor and outdoor use, especially for travel and outdoor activities.
Double as a portable charger

It is not more than an air pump. It is also a portable charger. The USB output port is a perfect way to charge your phone, tablet, laptop, and more.
Warm tips for electric air mattress pump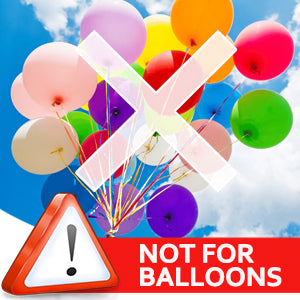 Do not use this air pump for inflating high-pressure products, such as balloons, kayak, balls, tires...Do not use this electric air mattress pump continuously.
Specifications:
Pressure: 0.44PSL
Airflow: 250L/min
Power Supply: USB Charging Cable (5V USB port)/Car Charger
Noise: <85dB
Size: 4.48x3.89x4.48inch
Weight: 414g
Charging Time: 6 Hours
Working Time: 30mins
Package Contents:
1 x Vachan Sports Electric Air Pump
1 x USB Charging Cable
3 x Detachable Nozzles
1 x User Manual
Great for camping!
I brought this for a music festival in which I was camping. It has an excellent battery life and fully inflated 3 air mattresses over the course of 3 days and only used less than half the battery! Definitely recommend!
Perfect
perfect size battery last a while.
2 in one
Great little item..
It's an air pump and power supply..
Not powerful enough
I got this to use to inflate a paddleboard and it works for the first bit (until about 3 psi) but then the air pressure coming out of the paddleboard is too high to counter the output of this unit, so I need to do the rest by hand.
Nice that it's light and portable but would work better for smaller jobs.
Great product but doesn't last
Great product but the change broke already and I only used it a few times. When the battery dies that is going to be it since I can't charge it anymore.