Rechargeable 16PSI electric pump for inflatable sup inflator and deflator  
The rechargeable iSUP pump is equipped with 2 high speed motors.
The pressure of this rechargeable SUP Pump is up to 16 PSI, quickly and easily inflate and deflate your SUP and water sports pool inflatables in no time.
Accurateness 0.01 PSI. The pump will automatically stop when the PSI reaches the preset value. 
Usually, it takes about 10 minutes to pump up a regular ISUP. 2-3 minutes to deflate a fully-filled SUP. Easy to roll up and organize your paddleboard.
Digital display with real-time pressure monitor
The electric SUP Pump supports real-time pressure monitoring with the integrated LCD digital display, working range 0.5 - 16 PSI. Use the digital display to set your desired pressure and monitor the pressure in real time.
Instructions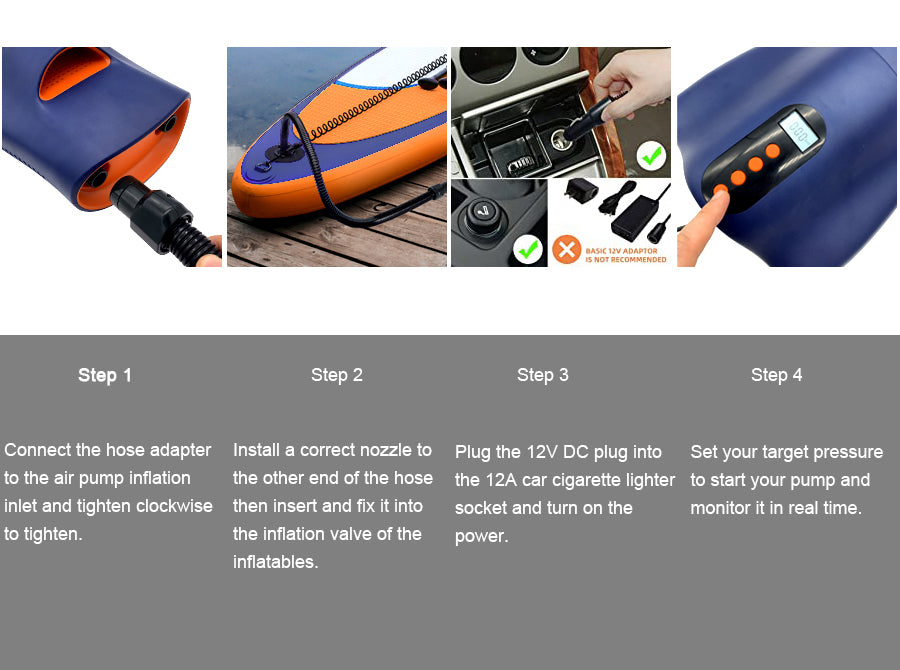 Fast and powerful dual-stage and auto-off for easy inflation and deflation
Automatic dual-stage pump: 1st stage for maximum speed at 350L/min and 2nd stage for maximum pressure at 70L/min. The pump will stop working automatically when the target pressure is reached when inflating.

The pump can make auto operation on inflating and or deflating ISUP, inflatable tent, inflatable raft, kayak...
When picking up the deflation function will make deflating more quicker and easier.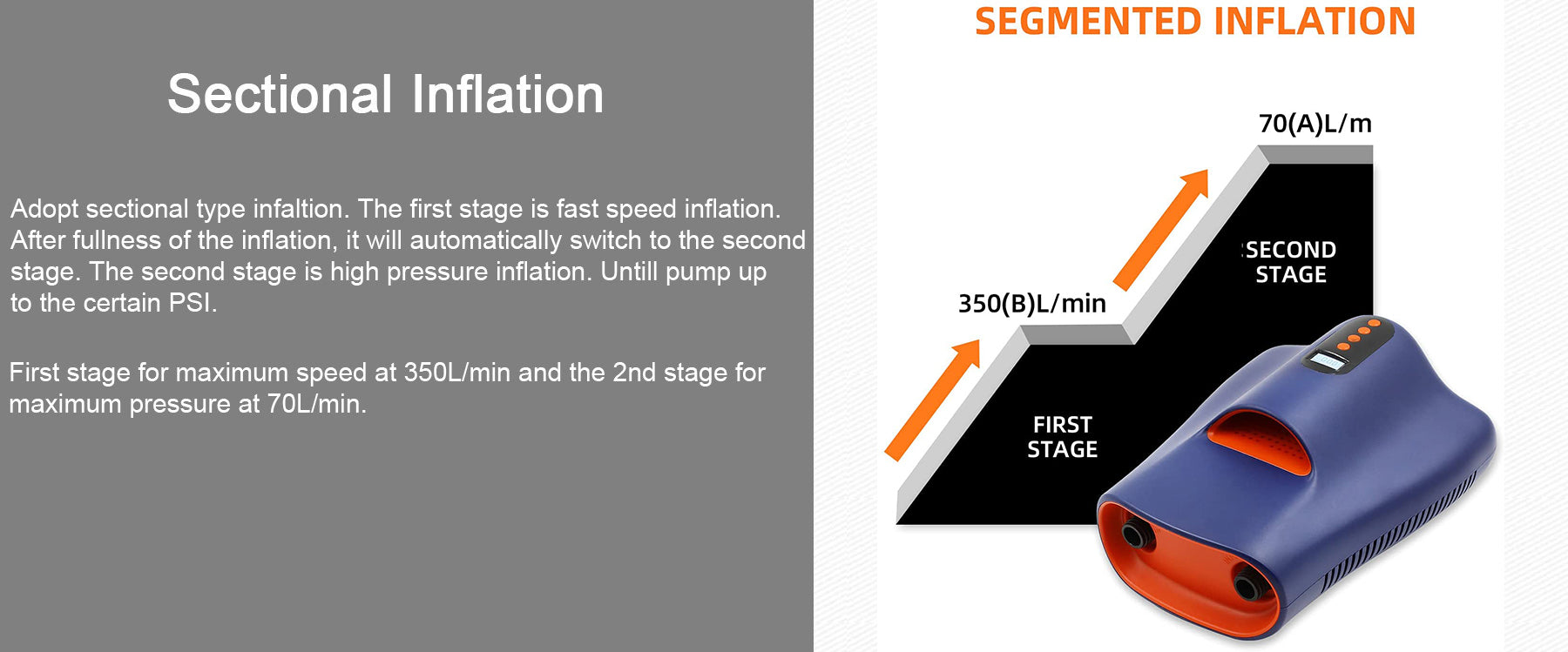 Build-in Li-ion 6000mAh 12V battery
Cordless design makes the product more portable. You can power this SUP pump via a build-in battery to inflate 3 SUPs continuously to 16PSI with no issues. The Long hose can be easily assembled and disassembled, saving space in the trunk of the car.
Multiple pump adapters are included
This battery-powered electric SUP air pump with a variety of inflater valve adaptors will fit the most common inflatables. Suitable for ISUPs, inflatable kayak, boats, canoe, raft, airbed, air mattress, boats, toys.....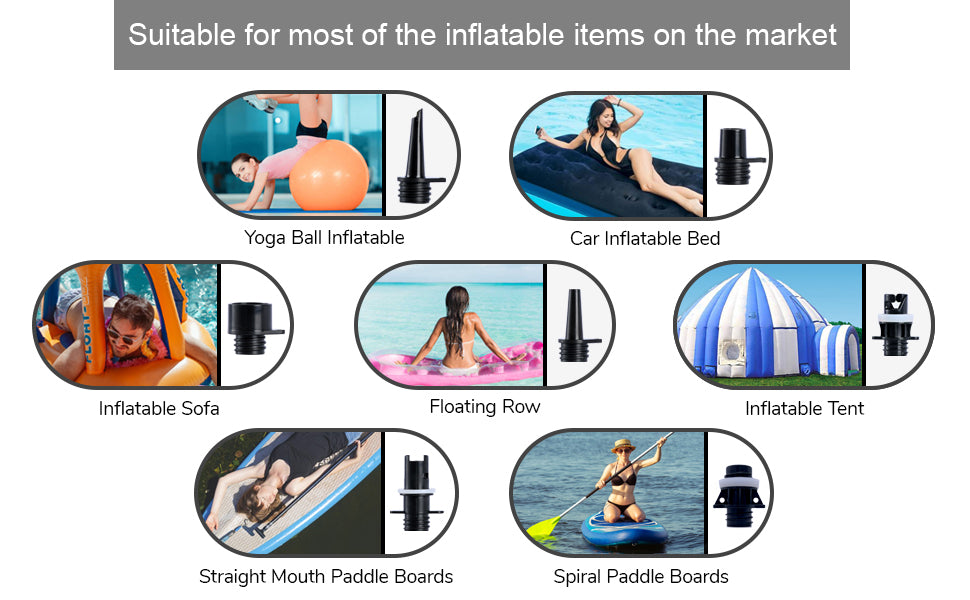 Package includes
1×Electric SUP Pump,1×User Manual,1×3. 6 feet High-Pressure Hose,1×6 Universal Nozzles Attachments, 1×AC 12V Charging Cord, 1×carry bag. With this carry bag, you can take it wherever you go.   
Blows up my raft super quick
For smaller sections it has a smaller inflate rate to not damage the plastics. For the larger areas you can hold down the power button and it kicks on the big air compressor.
Great pump!
We use this pump with our inflatable stand up paddle board. This pump is easy to use and doesn't take long to fill things up. The deflating function is just as great.
Took my paddle boarding game to the next level.
I bought this because even with a triple chamber pump, my arms were too tired to paddle after inflating. In 10 minutes my board is inflated to 15 PSI. It weighs about the same as my hand pump and easily fits in my board bag. The variety of attachments should inflate just about everything.
Life Saver & Time Saver!!!
I used the electric air pump to inflate my 12 foot paddle board. The max PSI on my SUP is 15 and this inflated that in about 15 minutes. The 10 feet power cable with the 3.5 feet air hose reached and connected to my SUP from my car very easily. It comes with the 6 nozzle adapters for different types of things you need inflated.
This does create some noise but being outside it wasn't that bad. I also used this to inflate my queen airbed and it inflated it in about 10 minutes.
This saves the 30-45 minutes it takes to pump my SUP manually and saves my arm and shoulder muscles from becoming sore before my real work out when paddleboarding.
I like the ability to set it to a certain PSI and just leave it until it finishes by itself. I haven't tried the deflate function but you just have to switch the hose to the other port.
Easy to use
This makes your life so much easier. I would highly recommend this product.