Tire Inflator for Car Fast Inflation & Multi-Functional
Vachan sports 12V portable tire inflator pump has a maximum pressure of 120PSI, and also built-in 3 high-capacity 2000mAh batteries, which will provide super power and inflate faster than other mini air pumps. Ideal for inflating cars, motorcycles, bicycle tires, sports balls, and inflatable pool toys. Note: not suitable for large truck tires.
Tire Inflator with Gauge with Two Methods' Power Supply
Our car tire air pump DC 12V is equipped with two charging methods, rechargeable batteries and the plug-into car's cigarette lighter. Internal powerful Li-ion rechargeable batteries will achieve wireless convenience, no need to plug and deal with the messy lines. Even if the battery pack runs down while traveling, do not worry, an additional 12V car power adapter can be used as an alternate power source. Never looking for a gas station to pump your tires anymore!
Car Tire Inflator with DC Power Charger with Auto-Off Function & Portable
Preset your desired pressure value and the portable air compressor/electric tire inflator will automatically turn off when the pressure is reached, never worry about over-inflating or low tire pressure, just enjoy the safe and reliable inflating method. The 12V compact tire inflator pump is easy to use, can be easily put in the car or carried with you.
Portable Tire inflator Compressor with Digital Display & LED Lighting
The bright backlight LCD display is easy to use at night, the LCD digital screen will display the current pressure value when the tire pump is connected, with 4 unit switching options: PSI, BAR, KPA, Kg/cm². Bright and long-lasting LED lights allow easy operation or making quick repairs in the dark. Meanwhile, that will make sure you can be found to avoid any potential danger.
12V Mini Air Compressor Pump with Gauge for Car Tire 120PSI 
The electric car tire pump is made to be a powerful solution for daily inflating needs with the design of heat emission holes so as to prevent overheat. This package comes with smart tire inflator, flexible hose, 3 nozzle adapters, micro USB cable, DC car adapter, and manual instruction. Vachan sports only provides the best quality and service, if you have any issues, please free to contact with us.
Vachan sports Portable Multifunctional Tire Inflator ------ A Great Partner for Your Car & Home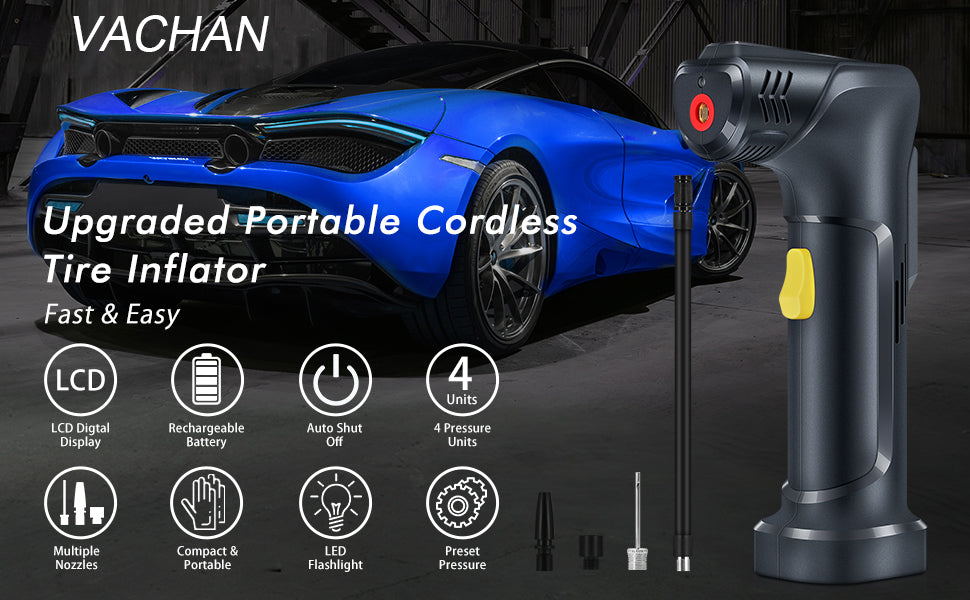 Have you ever been annoyed by car tire air leakage or instant pump up demand during road trip?

Have you ever been annoyed by the sudden air pump demand of bike tires, football, basketball, motorcycle & balloon?

Have you ever been annoyed by a bulky & heavy tire inflator with a noisy sound?

Have you ever been annoyed by the unknown tire pressure when inflating?

This 120psi portable & cordless car tire inflator air compressor with an accurate digital display will definitely simplify your life.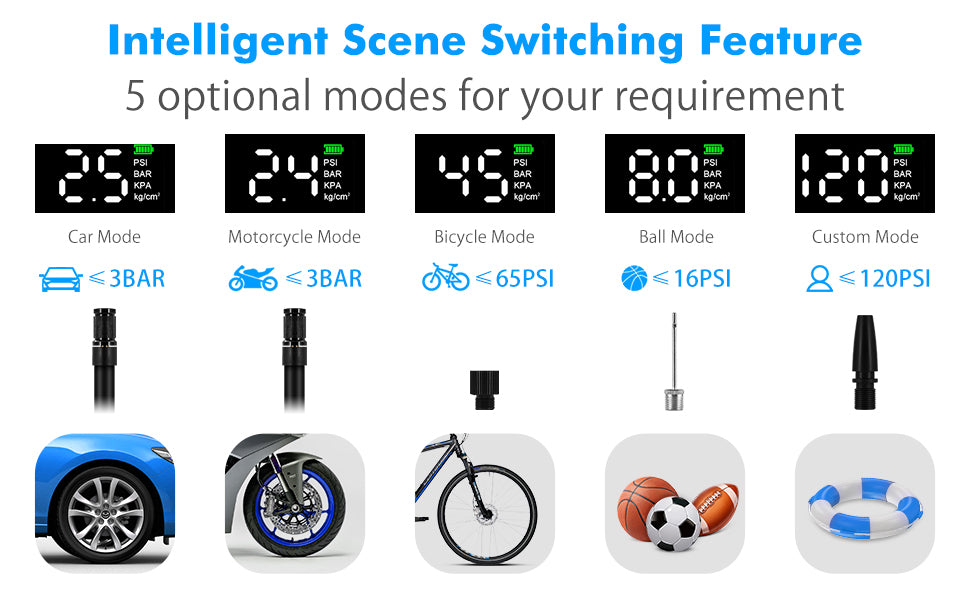 Product Feature: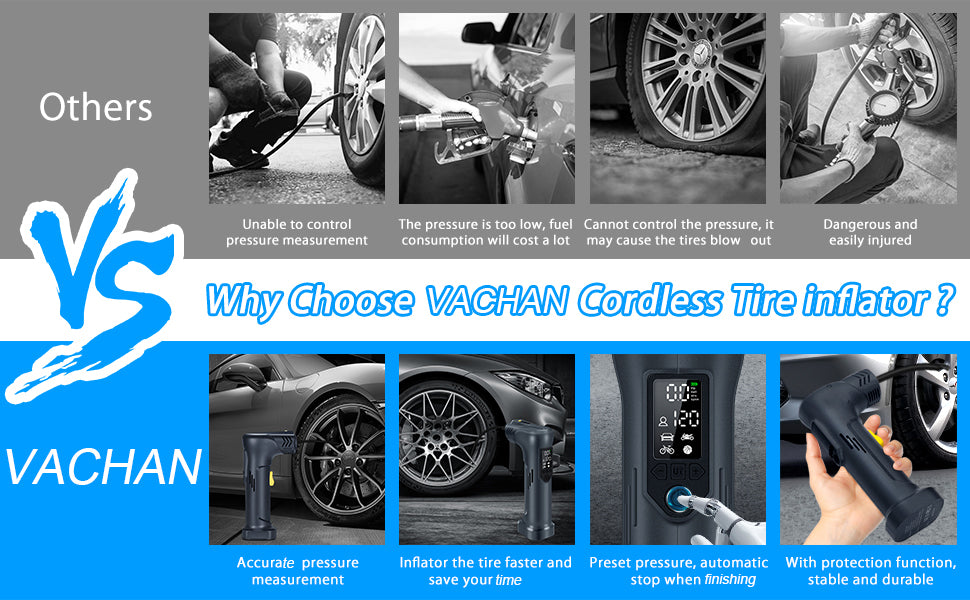 Powerful Cordless Tire Inflator pump with Auto-Stop Function
LCD Digital Pressure Gauge Shows Tire Pressure
2000mAh Rechargeable Battery &12V Car Power Adapter
Compact, Cordless, Rechargeable, Portable, Lightweight(1.7 pounds)
Max Pressure: 120 PSI Accurate to ±1 PSI
Application: Portable air pump with a car battery charger is perfect for the car tire, bicycle tire, motorcycle tire, balls, balloons, swim ring, and other inflatable items.

Portable Air Compressor 12V Cordless for Car Bike Tires with Digital LCD Display & Accurate TPMS
The powerful car tire inflator with pressure gauge can easily and accurately check your tire pressure. You just need to connect the inflation tube to the tire valve, you can clearly view the real-time tire pressure of your vehicle and preset the tire pressure as you need.
Car Tire Inflator 120PSI with Preset & Automatic Stop Function
Press the "U" button to set your desired mode, and then press the "+" and "-" buttons to set the desired pressure value. The 12V portable tire inflator pump will shut off automatically when the pressure is reached. No need to worry about over-inflation or low tire pressure. 
Package Content:
1 x Air Compressor
1 x 2 In 1 Hose
1 x Ball needle
1 x Presta Valve Adapter
1 x Swimming Ring Nozzle
1 x USB Cable
1 x DC Car Cigarette Lighter Adapter
1 x User Manual

Car Tire Inflator with Additional DC Cigarette Lighter Adapter
Do you still worry about the inflation issues? NO WORRIES!

Extra cigarette lighter adapter will work if the batteries run out, keep you still on the road, will not affect your plan and journey.
Car Battery Charger Tire Inflator with Emergency LED Flashlight
Long press the unit button to turn on/off the LED light, which can be used for illumination. The flashlight will provide you a brighter operation environment, it is easier to inflate your vehicle tires even on a dark night.
Car Air Inflator Pump with Powerful Heat Dissipation
Built-in heat dissipation fan, this portable car tire inflator could avoid overheating damage, it's durable and safe to meet different inflating requirements.